Section One
Halo 2 (2004- )
Home
Up
Tricks & Glitches
Oddities
Articles
Halo (2002-2003)
Home
Strange, Odd, Weird
Articles
Exploration
Movies
Tricks
Seventh Column
Section Fo
FAQ
Links
Kitchen Sink

Keep walking along the rooftops on the right side of the beginning of Outskirts. When you get to a clay/pink colored building, a chunk of the building is missing (and you are in view of Hotel Zanzibar.) Go inside and check this out. I'd say this is the only place you can find a plasma sword in this level, but I know at least one elite carries a plasma sword too. Anyway, this looks like a bloody grave to me. Cool ^_^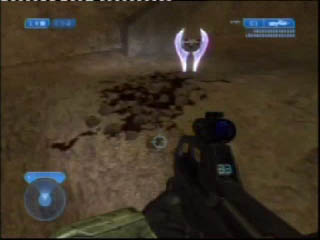 This must have been unpleasant...
EDIT: I've been informed at HBO that the stones spell REX (as seen in the last level of Halo 1.)
Rex is short for Ferrex. Go to HBO 4 more info--->


halo.bungie.org
"H.B.O. is my Anti-Drug™, what's yours?"



highimpacthalo.org
Explore, explode, excite!



bungie.net
The Tru7h. The Whole Tru7h. And Nothing but the Tru7h.