Utfoo
The Forerunner - Swahili Connection
with FrogBlast
min-i-mal-ism
n. Use of the fewest and barest essentials or elements, as in the arts, literature, or design.
Section One
Halo 2 (2004- )
Home
Up
Tricks & Glitches
Exploration
Articles
Halo (2002-2003)
Home
Strange, Odd, Weird
Articles
Exploration
Movies
Tricks
Seventh Column
Section Fo
FAQ
Links
Kitchen Sink

I wrote:

*slight spoiler*

In 'Metropolis' on the floor of the building you enter, 'mtangulizi' is written on the floor.

Mtangulizi on floor means "forerunner." Kampuni is written nearby, it means "company"

http://research.yale.edu/cgi-bin/swahili/lookup.cgi?Word=mtangulizi&EngP=0

So the question is raised in-game why the covenant decided to land there. In that level, they end up heading straight at that building. Any thoughts?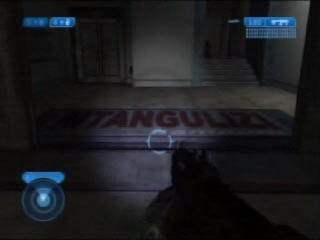 halo.bungie.org
"H.B.O. is my Anti-Drug™, what's yours?"



highimpacthalo.org
Explore, explode, excite!



bungie.net
The Tru7h. The Whole Tru7h. And Nothing but the Tru7h.