Section One
Halo 2 (2004- )
Home
Up
Tricks & Glitches
Exploration
Articles
Halo (2002-2003)
Home
Strange, Odd, Weird
Articles
Exploration
Movies
Tricks
Seventh Column
Section Fo
FAQ
Links
Kitchen Sink

A diamond-shaped symbol with numbers appears in the 'Metropolis' tunnel immediately before the Loading zone. I think this symbol can be found elsewhere in Halo 2 (but I forgot where.)
The numbers add up to 7
The origin of this sign can be found here.
This was originally posted at HBO here.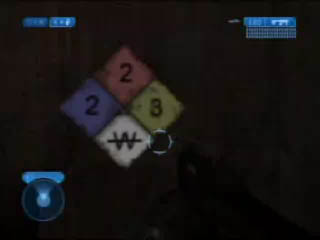 Health Hazard: Hazardous
Fire Hazard: Ignited with Heat
Reactivity Hazard: Shock & Heat May Detonate
Specific Hazard: Use no Water


halo.bungie.org
"H.B.O. is my Anti-Drug™, what's yours?"



highimpacthalo.org
Explore, explode, excite!



bungie.net
The Tru7h. The Whole Tru7h. And Nothing but the Tru7h.