Section One
Halo 2 (2004- )
Home
Up
Tricks & Glitches
Oddities
Articles
Halo (2002-2003)
Home
Strange, Odd, Weird
Articles
Exploration
Movies
Tricks
Seventh Column
Section Fo
FAQ
Links
Kitchen Sink

I landed here by accident. But as all good accidents go, I learned that this is easily re-creatable.
You can reach the top of the invisible wall by climbing to the roof above the entrance to the tunnel in 'Outskirts.' When you get up there, you can jump on to the invisible wall. The hard part is finding the wall... Get a nice checkpoint after climbing on top of the tunnel. The invisible wall meets the main wall in this area a little to the right of the tunnel entrance. Try walking along the invisible wall to get an idea of where it meets the main wall.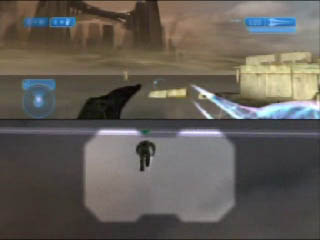 halo.bungie.org
"H.B.O. is my Anti-Drug™, what's yours?"



highimpacthalo.org
Explore, explode, excite!



bungie.net
The Tru7h. The Whole Tru7h. And Nothing but the Tru7h.