Utfoo
Scarab Pursuit in Outskirts
with FrogBlast
min-i-mal-ism
n. Use of the fewest and barest essentials or elements, as in the arts, literature, or design.
Section One
Halo 2 (2004- )
Home
Up
Tricks & Glitches
Oddities
Articles
Halo (2002-2003)
Home
Strange, Odd, Weird
Articles
Exploration
Movies
Tricks
Seventh Column
Section Fo
FAQ
Links
Kitchen Sink

Yeah... ummm... Halo 2 just came out, and I am allowed to miss a jump (or two or three...) every now and then. Even with the cruddy jumping, I was able to get out in time to watch the scarab vanish.
The location is the big hole in the tunnel in 'outskirts.' This doesn't require any grenades, if you are bored and want to practice your jumping.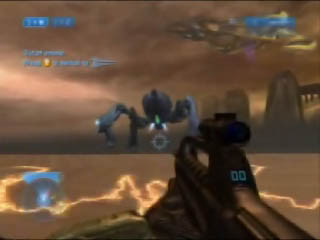 halo.bungie.org
"H.B.O. is my Anti-Drug™, what's yours?"



highimpacthalo.org
Explore, explode, excite!



bungie.net
The Tru7h. The Whole Tru7h. And Nothing but the Tru7h.