Section One
Halo 2 (2004- )
Home
Up
Tricks & Glitches
Oddities
Articles
Halo (2002-2003)
Home
Strange, Odd, Weird
Articles
Exploration
Movies
Tricks
Seventh Column
Section Fo
FAQ
Links
Kitchen Sink

Mr Tree writes:

I have found an easter egg on Uprising.

First question: Has it been found before? If so, my bad but if not....

Location:

On legendry Uprising, [Its the FIRST room filled with brutes and jackals on that level. So its before where I said it was before.]

Anywhoo, the grunt....

After clearing the room, I ran though the door and then returned to the room to collect stores. I then found a little grunt hiding away, who then said some funny things.

Can ppl please confirm if this has been found.

-Mr Tree
Read that whole thread for more information. He isn't exactly in the first room with brutes and jackals if you count the large cave area as a room. Regarding how to trigger him to speak...
Kanen Faud'r wrote:

It doesn't need to be on Legendary, I heard it on Normal.

I'm pretty sure I didn't leave the room, Frogblast, and he wouldn't repeat the comment after the first time, so he probably got triggered before you walked up to him.

- eli
I haven't been able to hear anything from him besides a short yell... but it doesn't matter much because I can't record sound;) If anyone can figure this out completely, that would be cool.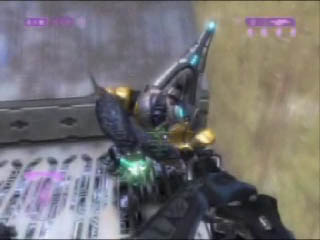 halo.bungie.org
"H.B.O. is my Anti-Drug™, what's yours?"



highimpacthalo.org
Explore, explode, excite!



bungie.net
The Tru7h. The Whole Tru7h. And Nothing but the Tru7h.